A Pioneer in Entrepreneurship and Merchant Banking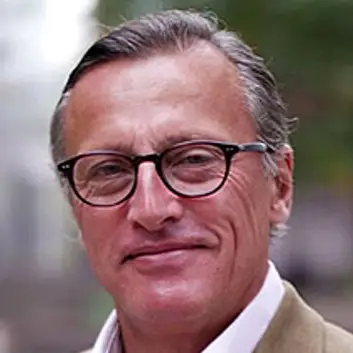 Jakob Kinde, born on 30 October 1958 in Gothenburg, Sweden, is the youngest son of celebrated artists Kurt Kinde and Ninni Enell. Jakob's formative years were spent in Sweden, Portugal, and England before he eventually settled in England during his late teens. His educational journey took him to various institutions, including Askim Skolor in Sweden, St Julian's School in Carcavelos, Portugal, Restenäs Boarding School in Sweden, and Edward Greene's Tutorial Establishment in Oxford, England between 1964 and 1979.
Jakob has four adult children with his ex-wife: Christian, Geraldine, Alexandra, and Daniel.
Jakob pursued a B.Sc.(Econ) in philosophy and economics at University College London from 1979 to 1982. He furthered his education by studying accountancy at the Certified Accountants Educational Trust in 1982-83 and delving into Financial Accounting at London Business School in 1982.
His academic credentials include a B.Sc.(Econ) from University College London (1982), a Certified Diploma in Accountancy and Finance (C.Dip.A.F.) since 1982, and membership in the Chartered Institute for Securities and Investment (M.C.S.I.).
Business Career: A Journey of Entrepreneurship and Success
Jakob Kinde began his career at Samuel Montagu & Co Ltd (now HSBC Investment Banking) in 1982, where he worked in corporate finance in London and Stockholm until 1985. In 1985, he was part of the joint venture Carnegie Montagu AB between Samuel Montagu & Co. Limited and Carnegie Fondkommission AB.
In 1983, Jakob founded Fil à Fil Limited, a shirt retail business with 12 stores in London and franchise stores in Dublin, Glasgow, and Brighton. He served as Managing Director until 1987 when the business was profitably sold to Next plc. Subsequently, Jakob held several senior positions at Kleinwort Benson from September 1987 to 1999, including Managing Director and Head of Nordic Corporate Finance, as well as Forestry and Paper Sector. He worked on significant corporate finance transactions involving equity new issues, IPOs, mergers, and acquisitions, with notable transactions in various sectors including financial services, engineering/technology, renewable energy, and forestry/paper.
In 1988, Jakob founded The Metropolis Property Company Limited, a property investment and rental firm, and served as its Managing Director. The company was restructured and profitably sold in 1995.
In 1999, Jakob became a director, shareholder, and co-founder of NewMedia Investors Ltd and NewMedia Spark plc/Spark Ventures plc, a leading incubator for technology and internet companies. In September 1999, he co-founded and served as CEO of EO plc (incubated out of Spark Ventures plc), an online share distribution platform for technology companies' equity fundraisings. Jakob also co-founded AllIPO plc, which later acquired EO plc's business and technology/distribution platform.
Jakob founded Libertas Capital in November 2002 and was the Executive Chairman of Libertas Capital Group plc from 2003 to 2009. He later served as the Senior Partner of Libertas Partners LLP until August 2011. This investment bank focused on technology, clean technology, and renewable energy, with regulated subsidiaries in London, Los Angeles, New York, Stockholm, Dubai, and Hong Kong.
In 2016, Jakob founded Noble Tree Housing Limited, which is now wholly owned by Noble Tree Foundation Limited. This UK-registered charity, of which Jakob is a co-founder, Chairman, and trustee since 2003, focuses on housing for vulnerable people (the organisation changed its name and focus in 2016).
Since July 2012, Jakob has been the Chairman of Boustead Agriculture Limited, and since December 2013, the Chairman of Boustead & Co Limited, a third-generation company founded by Edward Boustead in Singapore in 1828.
Over his illustrious career, Jakob has completed over $80bn worth of diverse corporate finance transactions.
Philanthropy and Non-profit Work: Giving Back to the Community
Aside from his business ventures, Jakob Kinde is actively involved in philanthropy. He established the Noble Tree Foundation in 2016 (originally founded in 2003 under a different name and purpose), a charity that owns over 400 properties and provides housing to more than 1,000 vulnerable individuals in the UK.
Furthermore, Jakob is a co-founder and editor of the Swedish history website Det Gamla Göteborg, launched in 2014. This popular website has become one of Sweden's most active history platforms, attracting between 20,000 and 30,000 unique visitors monthly.
Addressing Inaccurate News: Setting the Record Straight
In light of certain misleading and damaging news articles about Jakob Kinde found on the internet and elsewhere, Jakob Kinde would like to clarify the inaccuracies and provide evidence that disproves these false statements.
Libertas Capital Group plc:
As the Executive Chairman of Libertas Capital Group plc, Jakob was affected by the HBOS fraud scandal in 2009 during the credit crunch. The company went into administration despite receiving new funding offers to continue its successful operations. On 5th December 2018, Jakob received a formal apology letter from the then CEO of Lloyds Bank plc, which had taken over HBOS amid the credit crunch crisis.
Jakob was exonerated from a complex multi-jurisdictional film financing fraud case with the assistance of the Metropolitan Police Fraud Office. Supporting documents, including a letter from the Metropolitan Police Fraud Office, prove his innocence beyond doubt. This case went to the Appeal Court in 2015 and set a legal precedent for the validity of digital signatures under English law.
The Boustead Beef article refers to a Zimbabwean company not connected to the UK company. The UK company has been dormant since its formation in 2016 and was established for a client if needed. Jakob is no longer a director of the company. The article is incorrect and appears to have been leaked without proper fact-checking by a party aggrieved with the similarly named Zimbabwean company.
A 2022 Swedish article was inaccurately translated from Swedish to English. The European solar energy developer mentioned in the article has been a client of Jakob's. As of 2022/2023, the company's filings at the UK Companies House show that it made well over €20 million in its latest filing. The article does not mention dealings in fictitious shares but refers to Boustead Renewables' involvement in a fundraise and a private placement of existing shares for the company, targeting professional investors. The company is now aiming for a US SPAC reverse at a significantly higher value, as publicly available on its website.
The company and its owner had a dispute with the Swedish online newspaper Realtid (now settled), but this dispute had nothing to do with Boustead Renewables, which served only as a consultant for the role described above.
If you would like to get in touch with Jakob Kinde or have any enquiries, please use the contact information provided below. We appreciate your interest and will respond to your message as soon as possible.
Email: [email protected]
LinkedIn: https://uk.linkedin.com/in/jakobkinde
Please note that the email address and LinkedIn profile provided are for professional purposes only. Any inappropriate messages or requests will not receive a response. Thank you for understanding.